ALWAYS READY FOR THE NEXT CHALLENGE
We've all been there. After weeks of crushing deadlines and looking fabulous while doing it, your skin starts to look as drained as your coffee mug on a Monday morning.
Yes, life can drag us down sometimes but chlorella can help lift us up by keeping free radicals under control and helping our bodies regenerate after periods of stress.
Why take this supplement?
Chlorella is useful for detoxifying heavy metals, reducing oxidative stress, and increasing cellular regeneration. Help yourself look and feel younger.
Chlorella (broken cell wall)
Inactive ingredients: Cellulose (vegetable capsule)
Analysis / Supplement facts
Freshfield is third-party lab tested and GMP certified. We think that transparency is the best way to build trust so we share our specifications and test results for every product. All our products exceed FDA requirements because we believe in going further.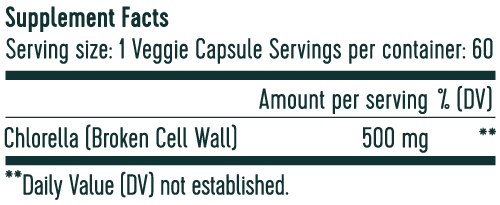 ---
Analytic Parameter
Specification
Result

Heavy Metals (mcg/day)

Arsenic

Cadmium

Lead

Mercury

< 0.001

< 0.001

0.036

< 0.001

Microbiology

Total Plate Count (cfu/g)

Total Coliform (cfu/g)

E. coli (cfu/10g)

Salmonella spp. (cfu/10g)

Staphylococcus aureus (cfu/10g)

Yeasts & Molds (cfu/g)

< 100,000

< 1,000

None

None

None

< 10,000

Conforms

Conforms

Conforms

Conforms

Conforms

Conforms

Physical

Serving Size

Identity Test By NIR

Average Gross Weight (mg)

Average Net Fill Weight (mg)

1 Capsule

Confirmed

643.00

524.00
Free from: Dairy, soy, fish, shellfish, peanuts, tree nuts, corn, wheat, antibiotics, lactose, gluten, GMOs, sugar, hormones, binders and fillers.
Made in the USA from domestic and international ingredients.