OPTIMIZE & BALANCE YOUR BODY
Cold-pressed from the seeds of the nigella sativa plant, black seed oil contains powerful compounds like thymoquinone, nigellone and p-cymene. It's a natural wonder oil that can help your body function in a more optimal state.
We work directly with farmers to ensure that you will get the highest quality, most powerful cold-pressed black seed oils available. Our solvent-free black seed oil is bottled in German-made glass to ensure the highest levels of nutrition and potency.
Why take this supplement?
Anti- bacterial, fungal, arthritic, diabetic, oxidant, and inflammatory.1 Yeah... it's kind of amazing. Black seed oil is well studied and is shown to have benefits for every part of your body:
Thinking of using this on your skin? Try a patch test first. Patch tests are an easy way to help predict if you will have a negative initial reaction to a new product. It is recommended to perform a patch test before incorporating new products into any skincare routine:
Apply a small amount of the product onto a clean area of skin on the upper forearm.
Keep the area dry.
After 24 hours rinse the area.
If any redness, burning, itching, blistering or irritation is observed at any time throughout the test, do not use the product.
100% Cold-pressed Black Seed Oil (Origin: Bangladesh)
Free from: GMOs, gluten, shellfish, eggs, dairy, peanuts, fish, tree nuts, soy
Analysis / Supplement facts
Freshfield is third-party lab tested and GMP certified. We think that transparency is the best way to build trust so we share our specifications and test results for every product. All our products exceed FDA requirements because we believe in going further.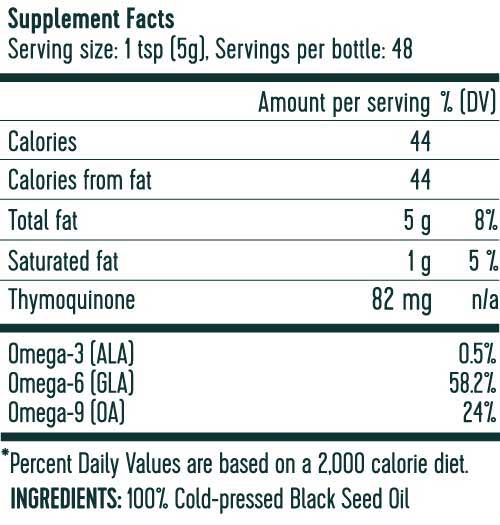 ---
| | | |
| --- | --- | --- |
| Analytic Parameter | Specification | Result |
| | | |
| Heavy metals (mg/kg): Arsenic, cadmium, mercury, lead. | | |
| Microbiological analysis: Salmonella, shigella, e. coli, s. aureus, haemolytic streptococcus. | | |
| Total dioxins, furans & dioxin-like PCBs (pg/g) | | |
If you're new to Black Seed Oil, here are a few tips from the Freshfam that will help you out!
Start with a half teaspoon per day

for at least the first week and make sure to take it with food. You can increase your dose to one teaspoon per day with food after your body gets used to it.

If you have a hard time with the taste,

try taking it with a chaser! Pineapple juice works really well. You can also blend it in your smoothies or put it in your morning coffee.

Use it on your skin*!

It's useful as a moisturizer and can help reduce redness and skin blemishes.

Rub it on your joints!

After physical activity, it can help with reducing pain and discomfort.

Add it to your facial (oil) cleansing routine*:

Pour a small amount into your hand and massage it for at least a minute into the skin on your face. Then soak a washcloth with hot water and place it over your face to remove all the impurities your released! Try mixing it with some olive oil or coconut oil if you need to balance it out.
*We highly recommend doing a patch test before using any new products on your skin.
Written by
an anonymous user
on
Customer Reviews
based on reviews
There are no customer reviews yet.
Thank you for submitting your review. Once it is approved, your review will show up in the list of reviews.
Submitting your review failed. Please try again.